Ems Ramdisk Tool iCloud Bypass ios16 or ios15 Free Download
EMS RAMDisk is a tool designed to provide users with an easy way to create virtual RAM disks on their computers. It allows them to store temporary files and data on the RAM disk, thus speeding up their system performance and reducing disk I/O. The tool is user-friendly and comes with a graphical user interface, making it easy to create, manage, and customize the RAM disks. EMS RAMDisk also provides a comprehensive set of features such as file system support, task scheduler integration, data compression, encryption, and more.
EMS RAM Disk is a tool that creates a virtual disk out of a user's system RAM. It allows users to store data in a RAM disk, which is faster than most hard drives and flash drives. The software has an intuitive interface that makes it easy to set up, configure and manage the virtual disk. It also provides security options to protect the data stored in the RAM disk, such as encryption and password protection. EMS RAM Disk is an efficient and secure way to improve system performance by storing data in fast-access memory.
EMs Ramdisk Tool is a software product from E-Majix Technologies, Inc. It is designed to help businesses improve their RAM disk performance. The tool allows users to create and manage RAM disks, set up RAM disk parameters, and back up and restore data. It also features advanced caching options and support for Windows Volume Shadow Copy Service. This tool helps to improve the speed and reliability of RAM disks, allowing businesses to make better use of their existing resources.
Ems Ramdisk Tool iCloud Bypass ios16 or ios15 Repack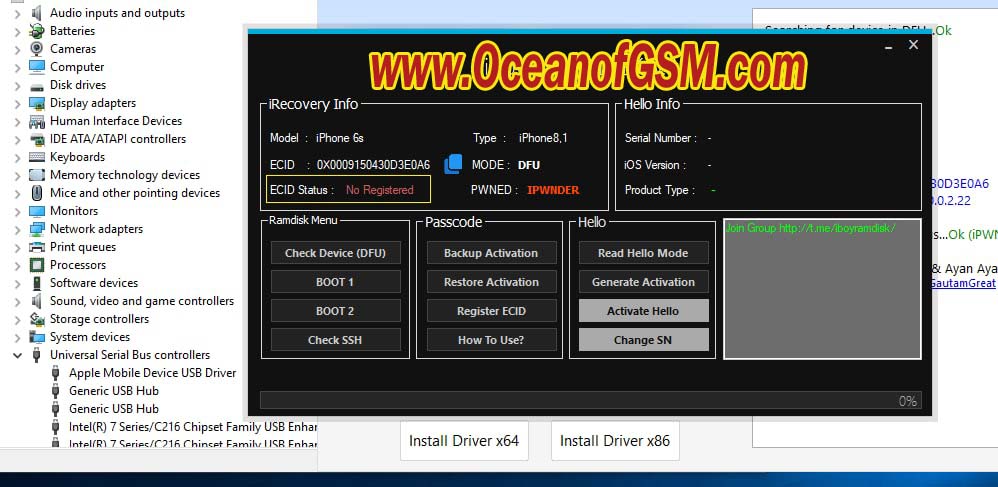 EMS RAMDisk is a repackaging tool that enables users to create disk images from their RAM. The tool allows users to store data on the disk image and access it quickly, making operations faster. It also features a wide range of customization options, allowing users to tailor the program according to their needs. The tool is easy to use, making it an ideal choice for those who need a reliable RAM disk repackaging solution.
EMS RAMDisk is a tool used to create a virtual disk from the computer's RAM memory. It allows users to store data temporarily in RAM for quick retrieval and improved performance. It also provides a secure way to store information, as the data is lost when the system is powered off. The tool includes an intuitive user interface for easy operation and can be used on both 32-bit and 64-bit versions of Windows operating systems. It also repacks the RAM disk to free up unused space and improve system performance.
The Ems Ramdisk Tool Repack is a useful tool for Windows users. It allows users to create RAM disks, which are virtual disks that store data in the computer's random access memory (RAM) instead of on a hard drive. The RAM disks created by the tool can be used to improve system performance, reduce loading time, and protect sensitive data from prying eyes. The tool also offers features such as adjustable disk size, password protection, and the ability to write to the disk.
EMS RAMDisk is a tool that allows users to create a virtual drive out of their computer's RAM. It creates a disk using the available Random Access Memory, or RAM, which can then be used as a storage device. This tool offers fast data transfer speeds and improved system performance due to the high speed of RAM. EMS RAMDisk also provides enhanced data protection through its ability to back up the created disk on hard drives or other storage media. This makes it an ideal solution for those who need quick and reliable storage for critical data.
EMS RAMDisk Tool Repack is a software program designed to help manage RAM disk resources. It helps to create, format, resize, and delete RAM disks. It also works with both dynamic and static RAM disks. The program allows users to configure disk images and specify options such as disk size, cluster size, and file system type. Additionally, the tool provides detailed RAM disk information such as the total number of clusters, total capacity, used space, and free space. EMS RAM Disk Tool Repack is an efficient and user-friendly tool that is useful for anyone who needs to manage their RAM disks efficiently.
Download Link: HERE
Your File Password:www.OceanOfGSM.com
File Version & Size: ios16 or ios15  | 277.4MB
File type: compressed/Zip & RAR (Use 7zip or WINRAR to unzip the File)
Support OS: All Windows (32-64Bit)
Upload By: Abdul Mateen
Virus Status: 100% Safe Scanned By Avast Antivirus